Performance Devices
StealthSwitch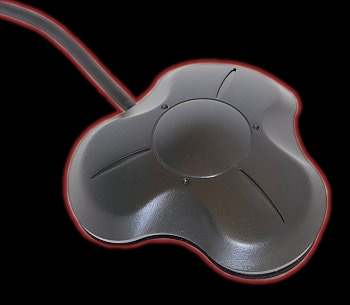 For Your Eyes Only...
The StealthSwitch is a patent pending computer privacy device. Installation takes only a few minutes and provides protection from prying eyes. Now the information on your computer screen is truly "for your eyes only". Instant computer privacy with just a click of the footswitch. Subtle, discreet, and effective.
The StealthSwitch will work with virtually any Windows application and has been tested with Microsoft Office, browsers, Instant Message programs, games, Internet Explorer, AOL, AIM, Firefox, etc.
Applications

People are spying on you in your own office. After using the StealthSwitch, you will be convinced that anyone who owns a computer and is concerned about privacy will benefit from a StealthSwitch. It has become common practice to use software to protect your computer from viruses, spyware, adware, spam, and hackers. But, there is no protection from someone looking over your shoulder at your monitor. Soon, the StealthSwitch will be another required tool to protect against this all too common invasion of privacy.
General Office
Law Office
Doctors Office
Cubicle Privacy
Government Offices
Students
Gamers
Secretary
Anywhere computer privacy is important
FAQ

Q. What are the system requirements?

A. The StealthSwitch requires either a USB port or PS/2 keyboard port, CDROM drive, Pentium or higher processor, 64 MB of RAM, 1Mbyte of available disk space, and Win 98, 98se, ME, 2000, XP Home/Pro.


Q. Should I connect the StealthSwitch with the USB or PS2 connector?

A. If you have a free USB port then that is the preferred installation method because it is slightly easier to install and doesn't require turning off the computer.


Q. What does the package include?

A. The StealthSwitch is retail packaged and includes the StealthSwitch with 6' cable, USB-PS/2 Adapter, Installation CD, Quick Installation Guide, 1 year warranty, 30 day return policy.

Q. How do I know if I have any windows hidden?

A. The easiest way to determine if any windows are hidden is to turn on the "Animated Icon" option. Then any time windows are hidden, the icon in the Windows system tray will change from a black stealth icon to a black dot. The black dot also conceals the StealthSwitch program when activated.

Q. Can't I accomplish the same thing with a virtual desktop program?

A. A virtual desktop program allows you to switch between different desktops. It is often confusing when working with multiple desktops and not as intuitive, fast, or effective as the StealthSwitch. The act of reaching for the keyboard or mouse alerts the visitor that you are trying to hide something and often results in greater scrutiny. Pressing the StealthSwitch on the floor under your desk is generally not noticed and is significantly faster.

Q. Does activation of the StealthSwitch close the application?

A. No. The application is still running – even though it is no longer visible anywhere on your monitor. If you are downloading a program, the download continues.