Finally! A Trackball designed with large hands in mind.
This trackball features a large sculpted support on a long housing, making it ideal for individuals with very large or long hands. The Evolution is designed for intense extended use. It's ergonomic design supports the hand, allowing it to rest while still maintaining optimum position for usage.
The evolution MOUSE-TRAK has six keys, yet it works with standard two or three button mouse drivers provided with your operating system. Each button is user programmable without the use of proprietary drivers. ITAC could have made programming easier by providing proprietary drivers, as some mouse/trackball manufacturers have done. Their market research and experience have shown them that to do so would create future driver support headaches for users. Microsoft has a long history of O/S upgrades which cause proprietary drivers to stop working (along with the product supported by the driver.) ITAC has chosen to make programming a bit tougher in order to assure its users that future support will be easier.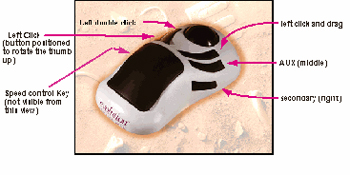 Features:
Elevated integrated hand support for maximum stress reduction.
Key position allows wrist to rotate to a more "thumbs-up" position, lowering wrist fatigue.
Keys move inward when pressed, instead of up and down - providing a smaller, less tiring motion.
Speed control.

A valuable feature available on the Evolution Mouse-Trak is the speed control key which in the default configuration is located on the left bottom button, Key 1. The Evolution initially comes up in a ballistic speed mode. In this mode, cursor movement will not only be proportional to the distance you move the ball, but also how quickly or slowly the ball is moved. Pressing the speed control key once will toggle the Evolution to a standard fixed speed. In this mode cursor movement will only be proportional to the distance you move the ball. Pressing the speed control key again will toggle it back into its original ballistic mode. Control of speed and acceleration can also be made within software on most workstations.

Six large keys positioned to fall under the thumb and fingers more easily, further reducing wasteful movements.

The default configuration for the Evolution Mouse-Trak is as follows (keys numbered left to right).

Key 1: Speed Key
Key 2: Logical Key 1 (Left Key) single click
Key 3: Logical Key 1 double click
Key 4: Logical Key 1 click and drag
Key 5: Logical Key 2 (Middle Key) single
Key 6: Logical Key 3 (Right Key) single

Pressing keys 1 and 6 for 5 seconds causes the Mouse-Trak to enter program mode where you can reconfigure your Mouse-Trak. Press Keys 2 and 5 to confirm entering program mode.
Step 1 - Select key to program
Step 2 - Select function to be assigned.

Key 1: Logical Key 1 (Left Key)
Key 2: Logical Key 2 (Middle Key)
Key 3: Logical Key 3 (Right Button)
Key 4: Speed Key
Key 5: Left hand default (reversed)
Key 6: Right hand default

Step 3 - Select Operation:
Pressing Keys 1 and 6 in Program Mode aborts the programming operation.

The four most heavily used mouse actions are on keys next to the ball (helps those with small hands).
Click, Double-Click and Click-and-Drag without complicated driver setup.
Extremely light ball movement force reduces user effort.
Advanced users can reprogram the keys for single stroke Click, Double Click or Click-and-Drag. This means less movement, less confusion, more productivity.
Evolution is ambidextrous and can be configured for left or right handed users.

A unique feature of the Evolution Mouse-Trak is its ability to shift from right hand to left hand operation by a simple chording (pressing multiple keys at once like playing a chord on the piano) of the keys. In default setting, your Evolution Mouse-Trak is programmed for right hand operation. Once it is programmed for left handed use, it will remain in left handed mode even if the power is turned off.

Reliable stainless steel shafts and bearings.