Flight simulation takes on an entirely different level of realism when you add the Saitek Pro Flight Instrument Panel to your simulator. With a 3.5" colour LCD screen, the Instrument Panel is capable of displaying 6 of the main cockpit instrument panels from Microsoft's Flight Simulator X, updating in real time. At the touch of a button you can choose from:
Altimeter
Attitude Indicator
Airspeed Inicator
Compass
Turn and Slip Indicator
Vertical Speed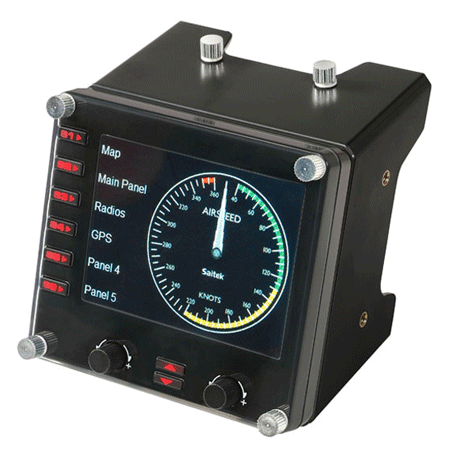 *ships with a Software Development Kit [SDK] allowing programmers to create interactions with other flight simulations and applications
The Instrument Panels can be set up as freestanding panels with the built-in stand or attached to the bezel (included) with the included hardware. The bezel is designed allow multiple panels to be secured together in either horizontal or vertical configurations and will mount directly to the Saitek Pro Flight Yoke for a truly realistic experience. For enthusiasts who wish to expand further these can also attach to the
Pro Flight Multi Panel
and
Pro Flight Switch Panel
to create an ever-expanding simulator experience.