Console Gaming Devices
Thrustmaster Run'n'Drive 3-in-1 Rumble Force
The Thrustmaster Run'n'Drive 3-in-1 Rumble Force gamepad is designed for play on PC, PS2 and PS3 and comes equipped with both USB and Gameport connectors. This is the first 7-axis gamepad with optical control for enhanced precision.
This 7-Axis controller breaks new ground with its Optical Wheel with Self-centering system that provides for precise control. Accompanying this are two progressive and programmable Triggers with four times the depth of standard buttons. These enable a new level of perfectly balanced, simultaneous and independent braking and acceleration.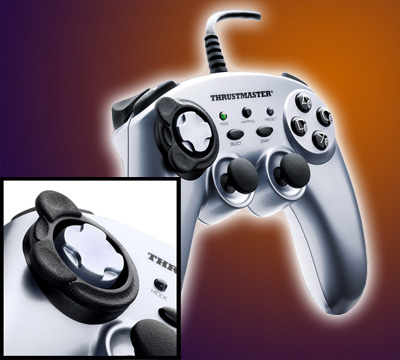 Fully programmable feature enables the user to reassign any button, mini-stick directions and D-pad directions to their personal specifcations. Dual preset option with on-board memory enables user to program two different custom settings and holds them in internal memory even when unplugged from gaming system.

Vibration feedback is available for both PC and PS2 through the 2 vibration motors. Force Feedback is not supported on the PS3 (or PS2 games played on the PS3).