Console Gaming Devices
Thrustmaster T-Wireless NW for Wii™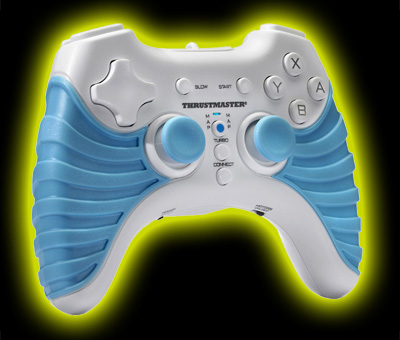 Thrustmaster has produced a winner with their T-Wireless NW gamepad for the Wii™. By offering the ability to play Virtual Console™, Gamecube™ & Wii* games on the Wii™ they have widely expanded your gaming options without additional hardware purchase.
As the first wireless, programmable and vibrating gamepad for the Wii to give you access to these games, the T-Wireless is the ideal addition to your gaming arsenal. Since the T-Wireless utilizes the Wii's Gamecube port you can keep your standard Wii controller connected and eliminate the hassle of cable-switching.
Optional force feedback (via on/off switch) lets you take advantage of compatible games which incorporate that feature while saving your batteries when not needed or desired.
Powered by three AAA batteries, the T-Wireless enhances its already low power consumption with an automatic shutdown feature and an on/off switch to extend your playing time between battery changes.
Performance enhancing features include full "Mapping" of all controls, so you can customize your T-Wireless to best suit your playing style, Slow and Turbo buttons (for slow motion and repeated actions), and rubber coated handles and joysticks to ensure a firm grip and control. And, if you want to show your friends who is best, you can use up to four T-Wireless controllers with one receiver.