Purchasing FAQ
1. Why can't I give my credit card online?
2. How much will shipping cost?
3. How long will it take to receive my order?
4. What taxes will be charged?
5. Wouldn't it be cheaper to order from a US location if the price is less?
7. What are our return policies?
---
Why Can't I Give My Credit Card Online?
We have found that it is best to talk with our customers to confirm their purchase prior to obtaining payments. Often people will have incorrect perceptions about the suitability of a product for a given application - by actually talking with the potential customer, we can reduce the liklihood of a return at a later date. In addition, there are often accessories which customers purchase (to be thorough and get the full benefit of a product) which are completely unnecessary - this can only be determined by talking with customers directly.
---
How Much Will Shipping Cost?
Our shipping/handling charges vary greatly depending not only on the number of products and type of product, but where we are shipping to (in Canada). If you need an exact quote, please call or email us for more information. Most individual products cost from $15 to $25 to ship, and when you buy more than one product the cost increase is not linear (i.e. 1 TrackIR 5 is usually $17.50, ordering 2 would be $20).
---
How Long Will It Take To Receive My Order?
Our delivery time varies greatly depending on where we are shipping to (in Canada). The graphic below shows the delivery times for UPS Standard Ground Service in Canada. We also offer UPS Express Service to all of Canada which is next business day to most of Canada.. Canada Post Expedited and Purolator Ground are also available and typically the same transit time as UPS Standard Ground. Extreme Gaming Devices typically ships orders within 2 business days, with the majority of orders shipping out on the next business day. Express orders confirmed prior to 10:00 AM Saskatchewan time (which is CST during Daylight Savings, MDT after Daylight Savings), will be shipped the same day. If Extreme Gaming Devices receives your Express order after 1:00 PM, then every effort will be made to ensure it is shipped out to you that day but Extreme Gaming Devices cannot guarantee that it will ship. Extreme Gaming Devices does typically maintain stock on all the products shown on the web site, and when you place your order you can always confirm that stock is available in the quantity and model that you require.
The colors are coded as follows (note transit time is number of business days not including day of shipment):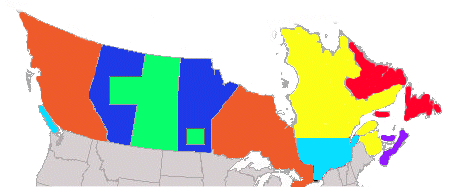 | | |
| --- | --- |
| Region | Transit Time |
| Saskatchewan, Calgary, Edmonton, Winnipeg | 1 |
| Remainder of Alberta, Manitoba | 2 |
| British Columbia (except Vancouver Island), Most of Ontario | 3 |
| Vancouver Island, Ottawa, Southern Quebec | 4 |
| Remainder of Quebec, New Brunswick | 5 |
| Nova Scotia, PEI | 6 |
| Newfoundland | 7 |
---
What Taxes Will Be Charged?
GST of 5% (or HST, see below) will be charged on all shipments delivered or billed to Canadian addresses unless a GST Exemption Number is provided and a form is faxed advising us of such exemption PRIOR to the release of the shipment. PST of 5% will be charged on all shipments delivered to or orders billed to Saskatchewan addresses unless a PST Exemption Number is provided and a form is faxed advising us of such exemption PRIOR to the release of the shipment.
HST % will be charged to all shipments delivered or orders billed to Ontario, Newfoundland and Labrador and New Brunswick addresses at 13% and to Nova Scotia at 15%.
---
Wouldn't it be cheaper to order from a US location if the price is less?
There are a couple of factors you should keep in mind if ordering from the United States.
First: The exchange rate does vary - here at ExtremeGamingDevices we make a reasonable effort to adjust prices as the US-Canadian dollar exchange rate varies but fluctuations happen constantly. Keep in mind that if you pay by a Canadian credit card to a US company, your bank will charge a commission on converting the Canadian funds to US dollars (usually around 3-5%), and their base exchange rate is higher than the one you hear quoted on the news (which is the large volume currency exchange rate).
Second: The cost of shipping from a US location is almost always higher than within Canada.
Third: The courier company or Canada Post will charge you GST/HST on the value of your shipment, so you don't 'beat the GST/HST' by ordering from the United States. In addition, you are usually charged a fee for collecting the GST/HST (disbursement fee - usually between $5 and $10 CDN).
Fourth: All couriers charge a brokerage fee (for air shipments, the fee is usually incorporated into the shipping charge) which varies from courier to courier but is quite substantial. Here is the fee guide from UPS as of January 1, 2011 (and they are more reasonable than some):
| | |
| --- | --- |
| VALUE FOR DUTY (CDN $) | BROKERAGE FEE LEVIED (CDN $) |
| $0.00 TO $20.00 | FREE |
| $20.01 TO $40.00 | $7.00 |
| $40.01 TO $100.00 | $19.45 |
| $100.01 TO $200.00 | $29.00 |
| $200.01 TO $350.00 | $44.25 |
| $350.01 TO $500.00 | $49.70 |
| $500.01 TO $750.00 | $56.50 |
| $750.01 TO $1000.00 | $63.25 |
As a consequence, what looks like a 'great deal' at first may not save you anything and can end up costing you significantly more. Let's take an example...
NaturalPoint is currently (April '10) offering a package price of $169.95 (US) for the TrackIR5 and the TrackClip PRO. Sounds like a great deal doesn't it?
| | | |
| --- | --- | --- |
| COSTS | ExtremeGamingDevices.com | US Store |
| Base Cost | $159.99 + 37.49 = $197.48 CDN | $169.95 US = $170.00 CDN |
| Shipping/Handling | $17.50 CDN | $44.75 US (UPS Air) = $45.00 CDN |
| TOTAL CHARGED AT TIME OF PURCHASE | $214.98 + 5% GST ($10.75) = $246.73 CDN | $215.00 CDN |
| GST | Already paid | $8.50 (5% of $170.00) |
| TOTAL COST | $225.73 | $223.50 |
What looked like a great deal initially ($27.50 difference) ended up saving you all of $2.23.
Fifth: If you ever have a problem with the product or want to return it (if they offer a money back guarantee) you have the added hassle of getting the product over the border again (perhaps more than once if repair or replacement is required), and you will not be able to receive a refund on all the import costs you have incurred.
---
How Do I Pay for My Order (Terms of Payment)?
OPTION 1: Bank draft or money order in advance, which can be mailed to our snail mail address
Micwil Group of Companies Ltd.
(ExtremeGamingDevices.com)
P.O. Box 9022
Saskatoon, SK
S7K 7E7
CANADA
Once we receive your payment, we will release your order.
IMPORTANT NOTE: Please make all money orders and bank drafts payable to The Micwil Group of Companies, NOT ExtremeGamingDevices.com.
OPTION 2: Mastercard or VISA
Simply call our toll-free number to place your order. For security purposes we can normally only ship to the billing address of the credit card (and we do verify all addresses), a secondary shipping address which you have registered with the issuing bank for your credit card. We reserve the right to ship to only the billing address and will advise you if this is the case. This is in order to help prevent credit card fraud.
OPTION 3: Direct Deposit
This is the most secure and simplest method of payment available. Simply email or phone us indicating this is the method of payment you wish to employ, and we will email you the information you need to perform a direct deposit. Then go to your nearest branch of the Bank of Montreal and make a direct deposit into our account. Once you have deposited the funds, email us and following our verification of receipt of the funds that they have been received, we will release your order.
IMPORTANT NOTE: Some branches will not allow this method of payment, it is at the discretion of the branch manager. Our experience is that most branches will allow direct deposits however there are a portion that will not (approximately 5-10%). In the event that your branch will not allow a direct deposit, we recommend you purchase a money order and mail it to us as an alternative.
---
What are our Return Policies?
Most of our products come with a 30 day money back guarantee, less a handling charge of the greater of $5 or 10% of the value of the product sold. In certain cases the handling charge may be waived depending on the condition of the product and the amount of time required to restock the product. In cases where the the product (including its box, manuals, etc.) is damaged either cosmetically or functionally, there may be an additional restocking fee (as it will require repair, repackaging or refurbishing before it can be sold again). In all cases the customer is responsible for all shipping charges (both on the initial shipment and on the return shipment).
In the event that the payment was made by credit card, an additional 5% administrative fee will apply.
Any items to which a quantity discount has been applied will be charged a 25% restocking fee in the event of a partial or complete return.
To qualify for a money back guarantee, the following procedure must be followed:
1) Verify that the product is in as-new condition. Damaged, abused or obviously used products will be subject to additional restocking fees.
2) Repack the product in the original product packaging with all original enclosures.
3) Returns must be shipped freight pre-paid by a method that provides proof of delivery
4) Please call us to advise that you are shipping back a product and to obtain an RMA number. Returns without a valid RMA number will be refused.
5) Please note all refunds are made in the same form as the original method of payment.