AudioFX Pro 5+1 by EDimensional and BenHeck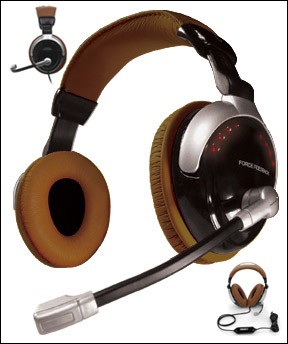 The AudioFX Pro 5+1 takes everything that is great about the acclaimed AudioFX including the unique force feedback feature and adds a style and design specifically for gamers, making it the ultimate gaming headset.
Built-in surround sound lets you detect the direction of approaching enemies and the special force feedback features lets you feel them coming, all before you can even see them! The durable, reinforced design stands up to intense gaming and travel to LAN events. The plush cushioning and custom earphone shape provide comfort by fitting around your ears instead of pressing against them, even during the longest sessions. The crystal-clear microphone guarantees your squad mates will hear your loud and perfectly clear.
Experience your games as never before with unique force feedback for increased situational awareness. The 5+1 is like a home theatre with subwoofer in a headset. You'll feel the shockwaves of explosions, the rumble of vehicles and the cries of dying noobs - all with perfect digital clarity. Classic styling and graphic equalizer LEDs give this headset a unique look that sets it apart. Designed by Benjamin J. Heckendorn, videogame console modder, designer and author.

New features include:
USB 2.0 Plug & Play connection with integrated 5.1 surround sound decode
Critically acclaimed force feedback technology with integrated subwoofer for dramatically enhanced situational awareness and increased bass effects
In-line volume control, vibration control and new instant mic mute button
New ambidextrous mic swivel with reinforced bearings
New oval ear cup design for immersive audio, external noise blockage and improved "around the ear" comfort
Improved LED level meter design for custom gaming look
Fully adjustable headband plus new pivoting ear cups
Included software for full audio position customization, equalization and special effects
Improved microphone sensitivity and filtering for incredibly clear voice transmission - Teamspeak Certified!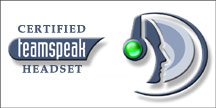 Specifications:
Driver Unit: 50mm
Impedance: 32 Ω +/-3 Ω
Sensitivity: 110 dB +/-3dB
Frequency: 20Hz - 20,000Hz
Microphone Specifications
Sensitivity: 58 dB +/- 3dB
Omni Directional: Yes
Frequency: 20Hz - 16,000Hz
Press:
Windows 2000/XP/Vista
1 USB Port
CD ROM Drive

Playstation 3 supports chat audio (not microphone)
Warranty is 90 days and only available directly from the manufacturer on this product; Micwil and ExtremeGamingDevices offers no warranty on this product.
(Due to hygiene issues we are unable to offer our usual 30-day Customer Satisfaction Guarantee on this product.)