Detailed Product Information Image Gallery Accessories
Detailed Product Information
Lumisource Solo LED Desk Lamp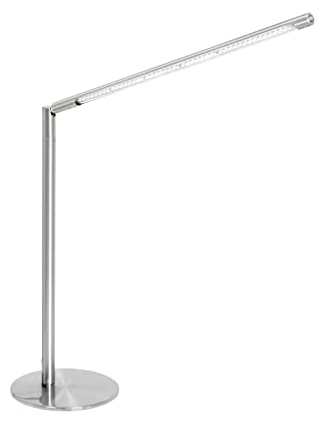 The Solo LED Desk Lamp from Lumisource features highly efficient LED illumination, consuming just 3 Watts of power. The 13.5" light bar is positioned approximately 15" above the mounting surface, high enough to ensure lighting coverage over a significant surface area. The light bar height and design ensure even illumination throughout the entire lighting zone and eliminate glare when used for traditional surface illumination. The light bar can also be angled anywhere from fully horizontal to fully vertical when light needs to be directed away from the desk surface. The heavy base ensures stability and is equipped with a glide pad that lets the lamp be pivoted or moved without damage to the desktop. Power is supplied via the included low voltage adapter.
Technical Specifications
Height:

With light bar fully vertical: 32" (81.3 cm)j
With light bar extended at right angle: 15.75" (40.0 cm)

Light Bar Length: 13.5" (34.2 cm)
Base Diameter: 6.0" (15.2 cm)
Depth (maximum (from rear of base to end of light bar): 17" (43.2 cm)
Power Consumption: 3W
Package Contents: Solo LED Desk Lamp, Low Voltage Adapter, Assembly Guide.
Models
For pricing, availability or to order this product, visit our online store.
Model #
Description
Price
LS-LED-SOLO
Lumisource Solo LED Desk Lamp, nickel finish, 32" L x 6" W
Original Price $95.00 On clearance for $60.00!!!
Discontinued. Clearance. No Warranty. No CSG
60.00