Page last updated: Friday 13 January 2023 9:32 a.m.
ExtremeGamingDevices.com - Detailed Specification Page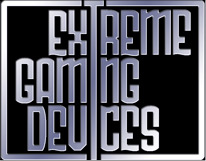 Back to Previous Page
Universal Challenge Racing Wheel
by Thrustmaster
Detailed Product Information Image Gallery Accessories
Detailed Product Information
Thrustmaster Universal Challenge Racing Wheel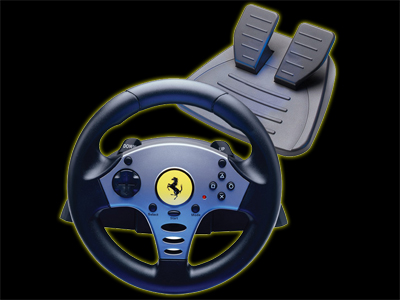 Completely Immersive and Unquestionable Quality - The Ultimate in Racecar Simulation Control
This best-selling racing wheel is now a 5-in-1, fully programmable device. The Universal Challenge Racing Wheel from Thrustmaster is able to be used on PlayStation 3, PlayStation 2, PC, Nintendo Wii, and GameCube gaming platforms. Instead of switching controllers for each system, the Universal Challenge Racing Wheel offers plug and play capabilities with all 5 systems. Ferrari is the icon of automotive competition and victory and has worldwide notoriety - values appreciated by gamers. Key gaming features include:.

Features:
Self-centering, realistic wheel resistance thanks to the 'bungee cord' system, which also includes an elastic belt offering continous resistance on a wheel's rotation with no points of inflection or interruptions in resistance. This is more realistic and responsive than a spring-based system which provides no resistance in the centre but maximum resistance at the extremities.

Includes central clamping system for optimal stability.

Mechanical components with recognized results (over 1.5 million units sold).

Two Ferrari style on-wheel digital gearshift levers.

Central attachment system guarantees optimum stability.

Fully programmable racing wheel: all buttons, directional buttons, pedals and levers can be relocated for personal preference.

Adjustable wheel sensitivity for precise driving.

Vibration feature on PS2, GameCube, and Wii compatible games.

Progressive pedal set with footrest for ultra precise, comfortable acceleration and braking - ideal for heel and toe racing moves.

Technical Specifications
Interface: USB
Compatibility:

PlayStation3
PlayStation2
PC (Windows 98/ME/2000/XP/Vista)
Nintendo Wii
GameCube

Dimensions:

Wheel Diameter: 7.75" (19.7 cm)
Wheel Base: 6.5" (16.5 cm) Deep (front to back) x 9.5" (24.1 cm) Wide
Total Footprint (wheel and base): 9.75" (24.8 cm) Deep x 9.5" (24.1 cm) Wide
Pedals: 3.5" (8.9 cm) Long x 2.25" (5.7 cm) Wide
Pedal Base: 7.75" (19.7 cm) Deep x 8.75" (22.2 cm) Wide

Warranty: Manufacturer
Package Contents: Universal Challenge Racing Wheel, Pedal Set
Models
For pricing, availability or to order this product, visit our online store.
| Model # | Description | Price |
| --- | --- | --- |
| 4060048 | Universal 5-in-1 Challenge Wheel (PC, PS2, PS3, GC, Wii) | 29.99 |
If you have any questions about this or any other product, call us or email us